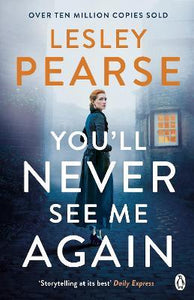 Betty is running for her life . . . The gripping Sunday Times bestseller about one woman doing whatever it takes to survive
'You are in the story within minutes of opening the book . . . A brilliant story full of twists and turns' 5***** Reader Review
'Compelling, rich in detail and vividly told. Storytelling at its best' Daily Express
'A gripping read. It kept me hooked from the start' 5***** Reader Review
FROM THE MULTI-MILLION COPY BESTSELLING AUTHOR LESLEY PEARSE
_________
When her husband returns from the war broken and haunted, Betty knows her marriage is doomed.
So she escapes.
On the run and armed with a new identity, Betty becomes penniless and alone, quickly realising that starting again is much harder than she thought.
And she never imagined it could end in murder . . .
But sometimes you have to keep running if you want to survive.
_________
'A pacy page-turner' Woman & Home
'Don't miss this suspenseful and emotional read' My Weekly
Praise for Lesley Pearse:
'Gripping and suspenseful' Daily Express
'Evocative, compelling, told from the heart' Sunday Express
'Gripping and full of twists' My Weekly